Western Jersey Wheelmen
The UCLA Fowler Museum of Cultural History Bicycle Exhibit
The Fowler Museum of Cultural History, located, in like? California? is running a bicycle exhibit from October 4th through January 3rd, 1999. The exhibit, Bicycles: History - Beauty - Fantasy formerly showed in the Morris Museum in August, 1997.
Several of the same bikes shown below are currently featured at the UCLA museum. In addition, a local flavor has been added with a companion exhibit: "Cruisin', Stylin' and Pedal- Scrapin': The Art of the Lowrider Bicycle."
Unfortunately, the guards at the museum don't allow any photos, so I have none to add here. So if you are in LA, visit the museum! Otherwise, see below for some of the bikes when they were in the Morris Museum.
The Morris Museum Bicycle Exhibit
The Morris Museum held an exhibit featuring the history of the bicycle.
I've arranged a thumbnail cyber-tour. Click on each thumbnail photo for the full image. Then, click on back to return to the thumbnail page. It's that easy....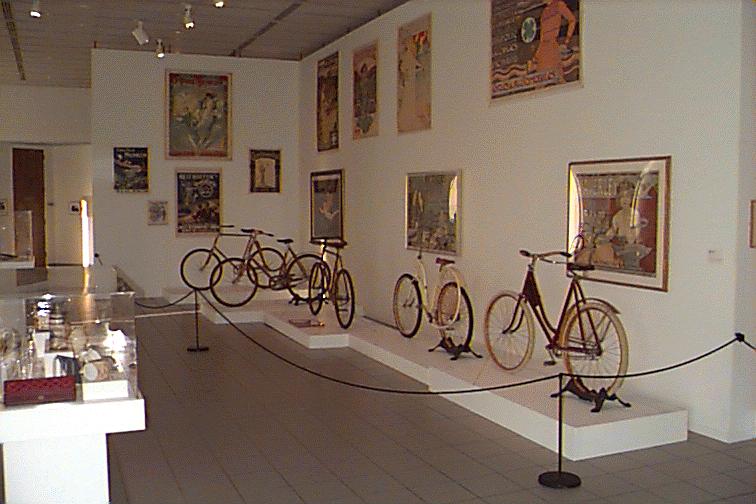 Photos by Jim Richardson.
An early Terry bike?
Fender webbing keeps woman's skirt out of wheel
Wood fork, wood frame, uh, huh-huh, it's wood.
Pope Columbia head badge
Driveshaft in chainstay
Nice helmet and dog repellent
It's got gears!
Early Grip Shift
Full suspension bike
Back to Western Jersey Wheelmen Features page.