Humboldt Peak: 14,064 feet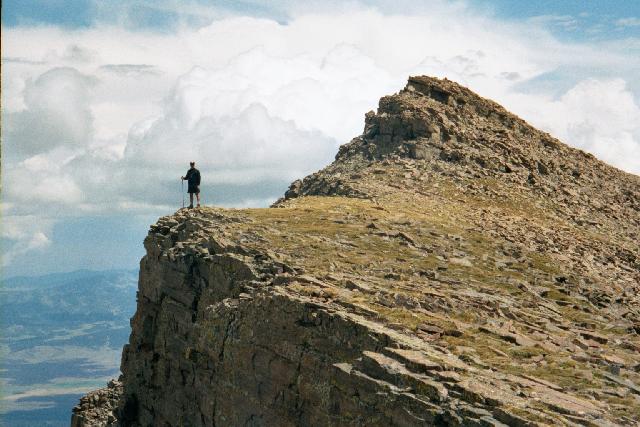 This is a photo of the final approach to Humboldt Peak's summit.
Humboldt Peak was our last climb of the trip. Worn out from the rest of the climbs, we decided to rent a jeep and drive the six miles from the two-wheel drive trailhead to the gate that stops four-wheel drive. That drive itself was an adventure, since this "road" could easily have mangled even a high-suspension 4WD.

From the 4WD gate it is an easy and nearly flat 1.2 mile hike to the South Colony Lakes. Above the lakes are steps — actual steps made from rock — that lead to the saddle between Kit Carson and Humboldt Peak. From this saddle the trail turns east and heads up to the first false summit on Humboldt.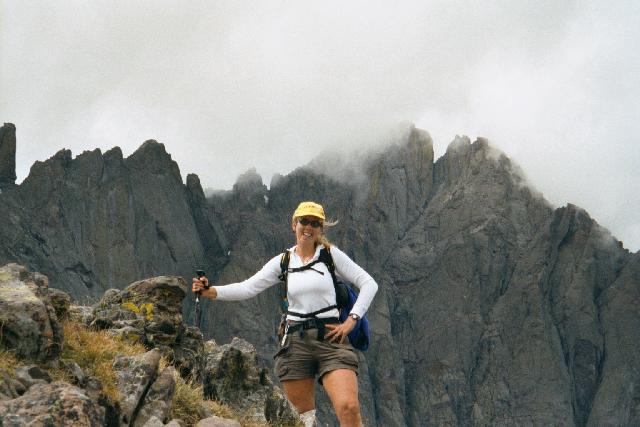 Dawn at the saddle, Crestones behind, storm closing in.
From the saddle over the false summit are many different routes, all obvious, cairned, and all wrong. We should have stayed right and low of the false summit, putting us on a direct route to the true summit.
Page design by Vision Graphics
High Altitude Webslinger
Last Update 02/05/2002