Colorado 2000: Trip Report

Friday, June 30th, 2000
We slipped out of work early, drove to the airport, ditched our cars, checked our guns, boarded our plane, arrived in Denver, got a rental Chevy Venture van, and drove to a local Holiday Inn for the evening. I called my brother John, who lives in Highland Ranch, a suburb south of Denver, and arranged to meet for breakfast. Our party included Dave, Joe, my wife Dawn, and me.
Saturday, July 1, 2000
We drove to my brother John's new house in Highland Ranch. We had breakfast with his family at a Perkins Pancake house. We said goodbye in the parking lot, and proceeded south on 285 and west on 50 towards the San Juans. Our first scheduled stop was Monarch Pass, 11,312 feet, where we repacked our gear for backpacking from air travel. The four of us spent three hours on the pass, taking in the high altitude.
We then drove 50 west to Gunnison, and 149 south past Lake City, passing San Cristobal Lake and headed up to Burrows Park, and old ghost town at 10,400 feet, which is the trailhead for climbing three peaks. We pulled out the sleeping bags and tents and made camp, sleeping high, but not well.
Sunday, July 2nd, 2000
After breakfast, we put on day packs and did an acclimatization climb of Handies Peak, 14,048 feet via the Grizzly Gulch trail and accessing the summit via the East slopes. This six mile, 3,600 foot climb was a good test of boots and lungs for four sea level climbers. We returned to camp and slept well this time. Although we used the same camp at 10,400 feet, it was lower than we had been all day.
Monday, July 3rd, 2000
Push hike, two peaks. Again with day packs, we climbed Redcloud Peak, 14,034 feet and then Sunshine Peak 14,001 feet, via the Silver Creek Trail and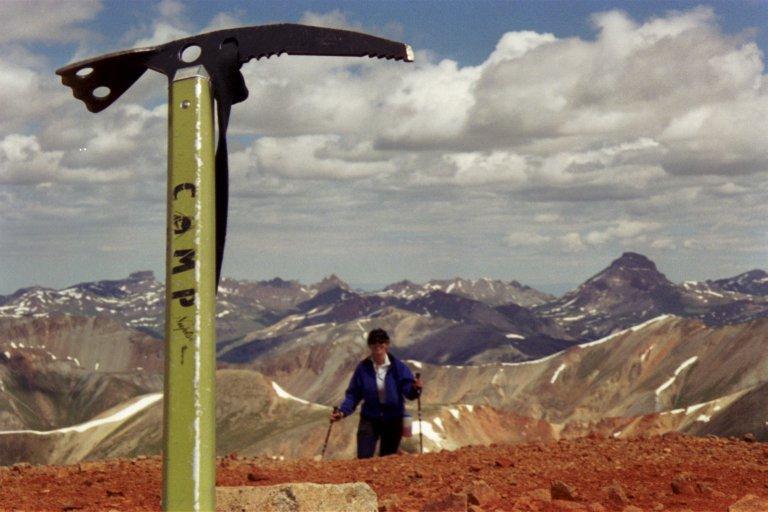 Northeast ridge of Redcloud, and the saddle over to Sunshine. This 8½ mile hike climbs 4,200 feet to both summits, and was a long day. Dave returned to camp via the North Slopes route; I lent him my ice axe for the steep descent. The rest of us returned over the summit of Redcloud back down its Northeast ridge, and down the Silver Creek Trail. We slept easily, having now spent two days above camp at 10,400 feet.
Tuesday, July 4th, 2000
We ate breakfast, broke camp, and headed into Lake City for the day's celebrations. We arrived at the end of the parade, and drove at parade speed waving to the people in town. We found a room at the Silver Spur Motel, gift shop, and liquor store, and showered and changed into street gear. We joined the town-wide party already in progress with three-legged races, sack races, and other entertainment to last the day. By evening a live band played in the street, and at nightfall, a fireworks display was enjoyed. It was an entertaining rest day.
Wednesday, July 5th, 2000
Breakfast in town, one last shower, and we said goodbye to indoor plumbing and drove up Henson Creek to Capital City (which is no longer anything at all) turned right on Matterhorn Creek, and drove as far as two-wheel drive can go, (perhaps farther.) We parked at 10,300 feet, put on our big packs, and climbed up above treeline to 12,100 feet where we made camp in a big grassy bowl. Camp was established by 2:00 PM, and we relaxed for the rest of the day, eyeing climbers and routes on Wetterhorn Peak. After dinner it got cold, so we turned in. For most of the party, this was the highest altitude they'd ever slept.
Thursday, July 6th, 2000
We put on day packs and climbed Uncompahgre Peak, 14,309 feet. We hiked around the peak from the south, and summitted on the normal route, but returned via a steep snow slope on the west face. Back in camp we had lunch, and in the mid afternoon, shot up Matterhorn Peak, 13,590 feet, to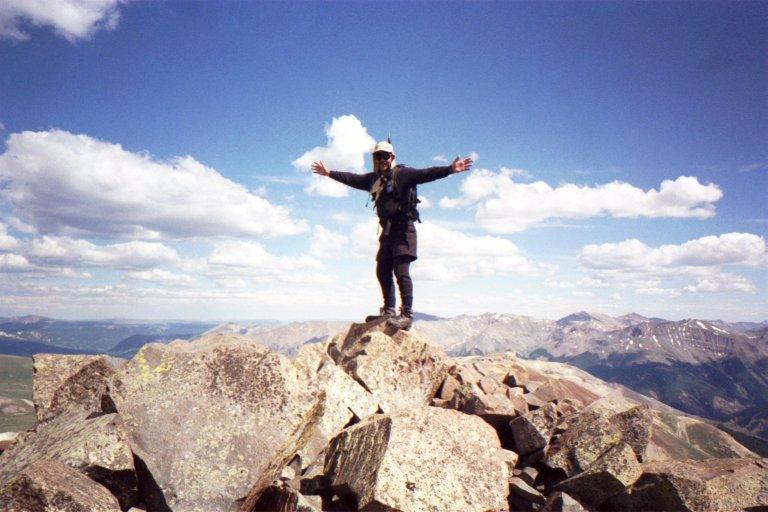 summit by 5 PM. The last 200 feet of elevation is rock climbing, hands and feet, with long drop-offs for mistakes. The summit of Matterhorn is nothing but boulders, and we could only stand at the summit one person at a time. However, the summit of Matterhorn was an ideal place to view the routes on Wetterhorn. We got back to camp, ate dinner, and went to bed early.
Friday, July 7th, 2000
Again we put on day packs, but this time with rope, harnesses and slings, and headed for the summit of Wetterhorn Peak, 14,015 feet via the southeast ridge. Like Matterhorn, this required a lot of hand and foot climbing, as opposed to the usual walk-ups. We didn't need nor use the rope for either going up nor down.
Wetterhorn's summit is grassy, with flowers, quite the contrast from the Matterhorn. We returned to camp, broke camp, put on the big packs, and hiked out to the car. We got to the car just as it started to rain, and we drove down to Lake City to get two rooms for the night. We showered, Went to Charlie P's for legendary margaritas, visited a laundromat, and took in a local play in town.
Saturday, July 8th, 2000
We slept late, had breakfast in town, and took in a mine tour. We had lunch at the Black Bear Restaurant, and headed south on 149 towards Slumgullion Pass. Before the pass, we headed north on a dirt stage coach road, over Los Piños Pass, and to the Stewart Creek Trailhead. The drive on unpaved roads was 40 miles and took over three hours. This area is remote! We set up camp at Stweart Creek, and watched the beavers build dams. We slept at 10,500 feet, a recurring altitude for camp this trip.
Sunday, July 9th, 2000
We awoke early, had breakfast, and packed lightly for the climb. This would be our longest hike of the trip, but we would be in top condition except for foot blisters. The trail from Stewart Creek trailhead to the summit of San Luis Peak is eleven miles round trip, with 3,600 feet of elevation gain. We had breakfast, broke camp, and headed out in the early morning. We summitted in under four hours, had some snacks on the summit, and raced the rain back to the trailhead. The rain won.
Back in the van, we drove north to 50, east to 285, and north on 9 to Dillon where night fell and we stopped for the day. We found a motel in Dillon, showered, hit the hot tub, and dressed for dinner. We found a dive bar frequented by cops and people with tattoos, and had Mexican fare. The band took requests, Dawn ordered Ernest Tubb's "Waltz Across Texas" and we danced while awaiting entrees. Two liters of margaritas were consumed, and we moved from the dinner table to the bar area. But with San Luis still on the legs, and margaritas on the mind, we didn't last long, and retired back to our rooms. At our lowest altitude of the trip, we slept well.
Monday, July 10th, 2000
With coffee and danish from the complimentary continental breakfast at the hotel, we started towards Georgetown, for a real breakfast. After an outdoor breakfast, we toured Georgetown, and headed for BlackHawk and Central City, two towns that fire couldn't destroy, but government planning will.
We finished with a trip to Highland Ranch, where my brother took us to an all you can eat, ribs dinner.
Tuesday, July 11th, 2000
We slept late and had breakfast in the hotel. With the fuel service option on the rental van, we had a low fuel indicator light on, and twelve miles to go. We must have drove in on mere fumes, the tank couldn't be any lower. We turned in the van, shuttled to the airport, and headed back to our sea level lives.
Back to Climbing.
Back to my Weird Wired World.