The Summit

Most of my mountaineering has been of 14ers in Colorado, and I'm back to the 14ers following back problems. Prior to the injury, I'd been extending my range to glaciated peaks, trying ice climbing and playing with nuts, quickdraws, runners, and scraping fingernails across rock face. So my range is extending, not just geographically, but also in depth of skill. I've yet to buy those too-tight sticky rock shoes, seems I should be climbing walls in crampons, anyway.
Also, I've got a North Face Assault-22; single wall, four season, high altitude tent. (Sounds like it will be banned as a federal crime measure.) This tent performed flawlessly! With high winds, the exterior of the tent was coated with ice, and yet we stayed warm and dry inside. The high vents allow condensation to blow out of the tent. This tent is so windproof, you might want to change your diet before sleeping in it.


In The Works:
Aconcagua 2003
I'm planning on heading south again, and climbing Aconcagua, the highest peak outside the Himalaya. I'd like to do the Polish Glacier, and if I can find a few guys with glacier experience, I'll try it. That might mean a trip to Rainier in 2002 to test out their arrest ability. Or I may go on a guided trip. I'll post more as I work it out. Want a taste of Aconcagua? Click here for the Mountain Zone's Winter ascent.

Colorado 2002: The Long Trip
For July 4th, we are planning on climbing Long's Peak. That will involve some easy acclimation climbs: Mt. Evans, Mt Bierstadt, the ridge between, Grays and Torreys.

Past Trips:
Colorado 2001: Sangre de Cristo
We spent Labor Day hiking in the Sangre de Cristo range. We summitted Mt. Lindsey, Blanca Peak, Ellingwood Point, Challenger Point, and Humboldt Peak. I nearly made Kit Carson, and we decided to get better information before we attempt Little Bear, Crestone Peak, and Crestone Needle. Click through for stories and photos.

Colorado 2000: San Juans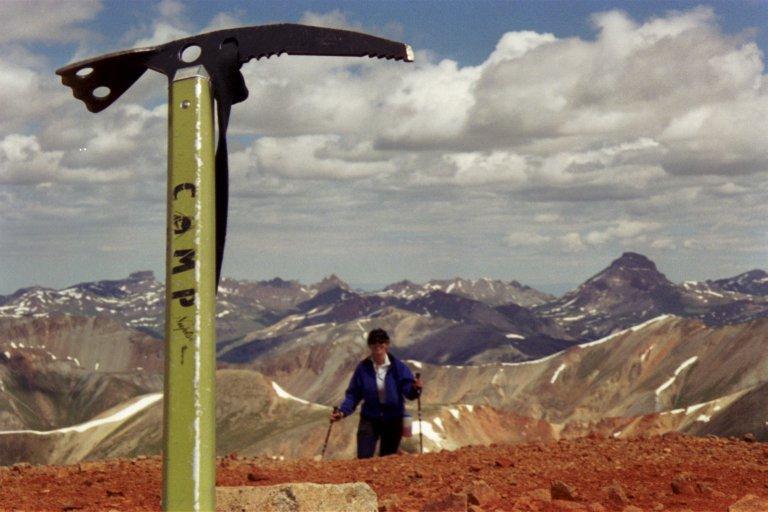 After the unfavorable weather conditions we experienced in April of 1999, we returned to the San Juans, but this time in July. We climbed Handies Peak, Redcloud Peak, Sunshine Peak, Uncompaghre Peak, Matterhorn Peak, and Wetterhorn Peak. Click here for the entire trip report.
Colorado 1999
I climbed in Colorado during April, 1999. I chose the San Juans, the most remote area in Colorado, and tested a new climbing partner. We started in Burrows Park,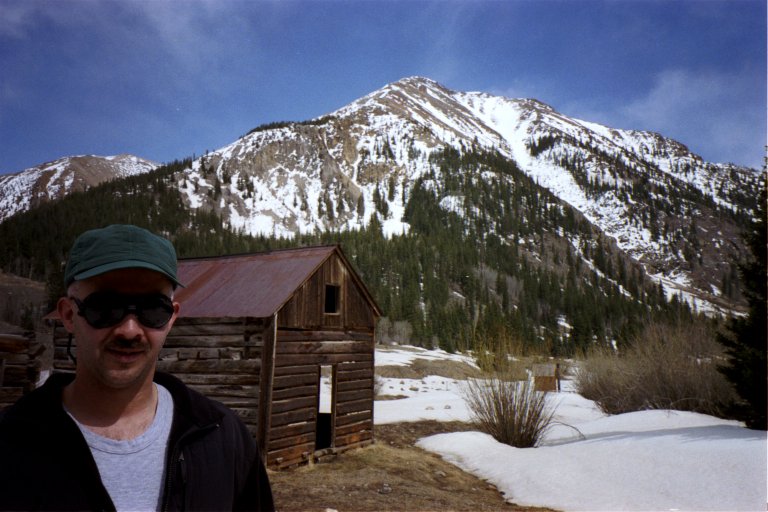 a ghost town with two remaining buildings (and one new important one, in the background.) We camped at 10,400 feet, and started up the Silver Creek trail until we were somewhat past the South Fork. From here we snowshoed straight up a steep snow gulley, switched back and forth between rock and snow, and finally made a windswept ridge. I summitted Redcloud Peak, 14,034 feet,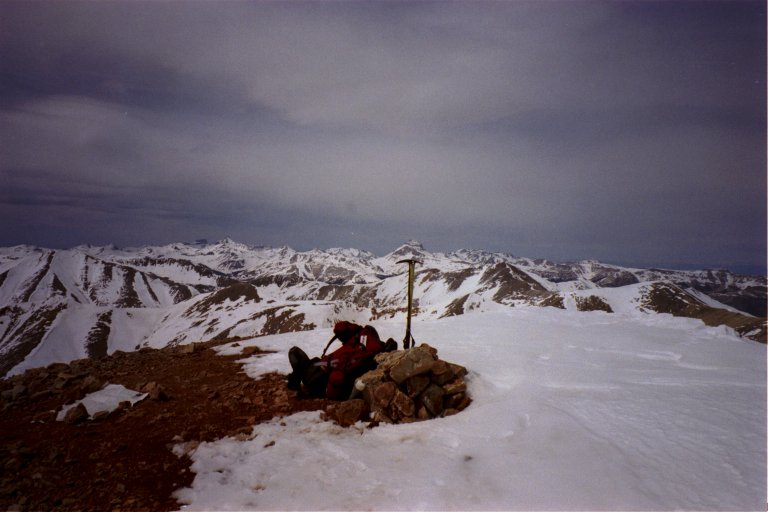 and then got stormed off the mountain. In the photo, behind my ice axe is Uncompaghre, and the tall peak to the left is Wetterhorn.

The next day we attempted Handies Peak,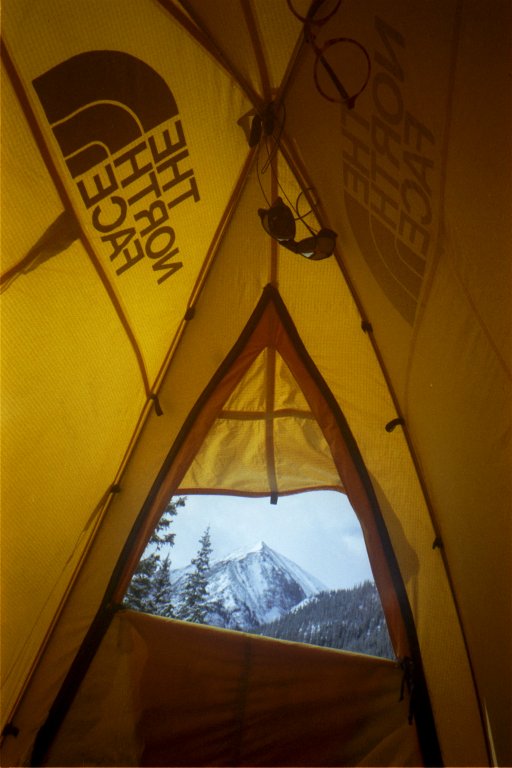 but the trail register is all we could find. We could not find a trail, and snow was quite deep, plunging in thigh deep in snowshoes. So instead we opted for Sunshine Peak, which is right behind Redcloud. But the storm never let up, and although we camped higher and attempted to climb, at 13,400 feet we turned back.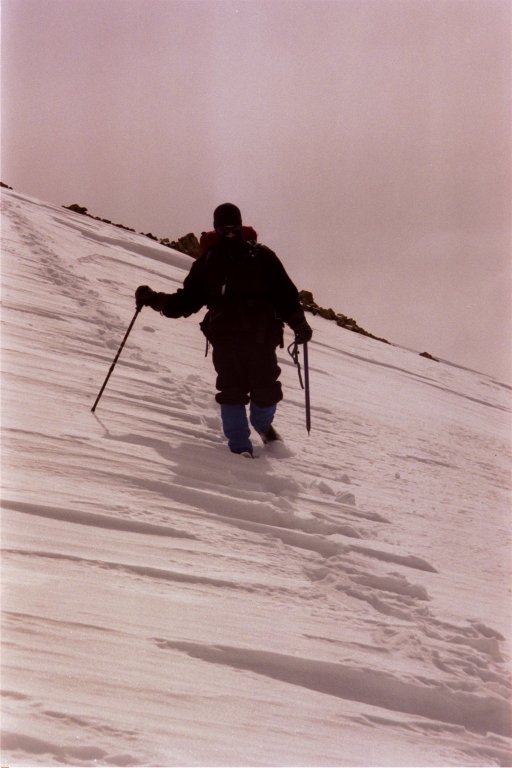 We got to the car, and found out that a major winter storm system was upon us, with passes closed, and snow tire and/or chains required on some mountain roads.
We went to Leadville, the storm stayed with us. Finally, we changed course and decided to do some reverse mountaineering. We went to Mesa Verde National Park, and from the high point of 8,800 feet, climbed down a steep ravine to the Gunnison River below, and 6,200 feet. While this day started sunny, on the trip back up we encountered hail, and low visibility fog at the top. Storms were upon us again.
New York: Adirondacks High Peaks
In September, '97 we climbed in the Adirondacks in New York. We did a 21 mile loop with full packs, over the top of Mt. Marcy, then Mt. Colden, and Algonquin Mtn. (We dropped packs and did some pure "peak bagging" on Wright on the last leg.) No ropes, no crampons, plenty of oxygen, what a change! Trip highlight: driving off a bear with a machette to "steal back" my breakfast. Here's a link to some photos.


Ecuador: The Volcano Tour Part II
In July, 1997, I climbed three volcanoes in Ecuador: Iliniza Norte, Cotopaxi, and Pichincha. In January, 1998, I climbed Iliniza Sur.

Click here for more information on volcanoes of Ecuador.

Iliniza Norte 16,818 feet
Iliniza Norte and Sur were at one time one volcano, but now are two distinct peaks. The crater has worn away, and now all that exists are the insides of the crater that form the faces of Iliniza Norte and Sur. This photo shows the Norte summit and face, and the saddle to Sur. The face of Norte is the inside wall of the original crater. Norte is a rock scramble to the summit and a good aclimitization climb. We learned that July is the windy season, and this complicated things somewhat. We were literally in a cloud, so visibility was limited to under 100 feet. Additionally, the strong July winds put ice everywhere, disguising cairns from view. On a well cairned, rock route, we got lost three times. We summitted, took photos, but the expansive views we'd wanted from a high summit were lost in the cloud. The next photo is a shot of Norte from the summit of Iliniza Sur.
We next attempted to climb Sur, 17,268 feet above sea level, a technical ice climb, but the fog, high winds and freezing sleet turned us back.


Iliniza Sur 17,268 feet
We returned in January 1998, the dry season, and conditions were much better on Sur than we had experienced in July. Instead of the high winds and ice, we had balmy temperatures, and no wind. The warmth from el niņo had caused so much ice melt on the glacier that avalanche was a constant danger.

There are two routes and two summits on Sur. The standard route leads to a summit around the back of the mountain, the direct route leads heads straight up the north face (crater wall.) We took the direct route, an ice climb up a 70 degree route.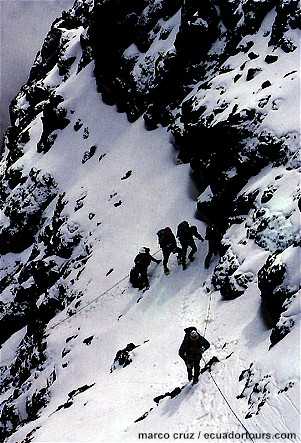 The 70 degree ice kept the route clear, any melting ice quickly dropped to the saddle, but above the ice wall, where the angles were not so steep, warm temperatures had melted the ice and it was unstable, like an italian ice one would eat. Conditions were like slush, with ice tool handles plunging full length without hitting solid ice.
We climbed the direct route and reached a rocky band that had to be climbed. Above this band was a direct ascent to the summit. From here, another summit was visible, and several footprints led from our summit down the back side of the mountain. We were unsure whether we summitted on the true summit, or a subsidiary one. Coming down, we avalanched twice, got caught in rockfall, and I slid into a crevasse. In the May 1998 Climbing Magazine, we saw the route and verified that we had indeed made the summit.

Cotopaxi 19,348 feet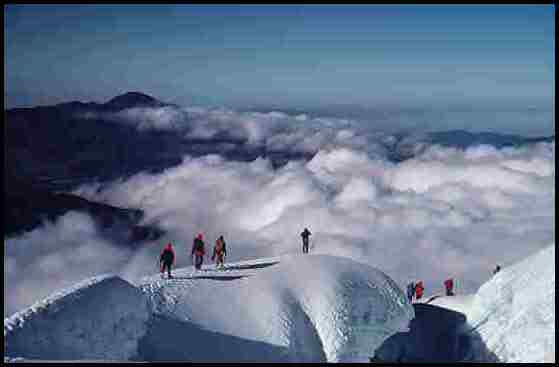 I attempted Cotopaxi on a Sunday in July, 1997. This is not a good weekend climb. There were over 100 climbers attempting this climb, with rope teams creating traffic jams on the mountain. I joined a British rope team and we climbed as far as 18,165 feet before being turned back by the winds. My clothes, pack and ice axe had over a half inch of ice covering them. I heard but could not confirm that perhaps eight out of the hundred climbers summitted that day.

We returned in Janaury 1998, and the weather was wonderful, visability great, with many successful ascents. Unfortunately, my rope partner decided to solo the climb, and I was unwilling to climb unroped.


Chimborazo 20,700 feet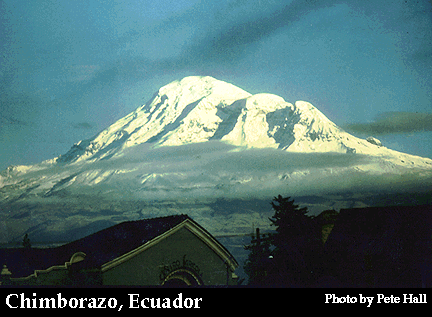 Chimborazo is the highest peak in Ecuador, and higher than anything in North or Central America. Due to the bulge at the equator, Chimborazo is father from the center of the earth than the summit of Everest. (But it's a whole lot easier to get to!) Due to the high winds we encountered on the other peaks, we decided to postpone this climb until a different season. Click on each photo for larger images.


Guagua Pichincha 15,729 feet
Guagua Pichincha is a currently active volcano. The really exciting part of the climb is supposed to be down into the crater, since its kicking stuff. However, visibility on this peak was as on the others, and we summitted in about 40 feet of visibility. Highlight of this climb was the descent: dropping gear and riding rented mountain bikes down from 14,700 feet down to the Amazon basin at 3,000 feet.


Mexico: The Volcano Tour Part I
In January, 1997, I climbed two volcanoes in Mexico.
Popocatepetl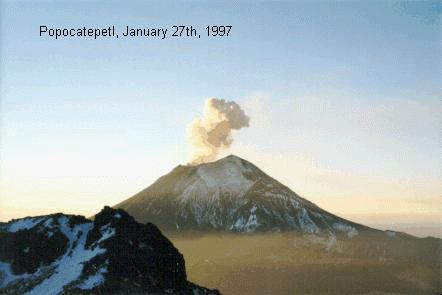 Popocatepetl is perhaps the most well known, since it is currently active and smoking. Occasionally, it throws rocks and debris from it's crater. Due to this state, it is also closed to climbers. Popocatepetl, at 17,733 feet above sea level, is the second highest peak in Mexico. Here is a photo of Popocatepetl erupting, January 21, 1997. This photo was taken from the north on Izta, about 7:00 AM, at about 15,000 feet.

Iztaccihuatl
Iztaccihuatl is an inactive volcano just to the north of Popocatepetl. (A portion of Izta is visible in the foreground.) In fact, the trails to both volcanoes share the same saddle. We climbed Iztaccihuatl as an acclimatization climb. Izta is the third highest in Mexico, at 17,338 feet. The climb gets to altitude rather quickly, and then is a long hike above 16,000 feet to the summit. It is not a technical climb, as all of the ice is on flat icefields, but the length of the climb and the routefinding difficulties made this climb interesting.

El Pico de Orizaba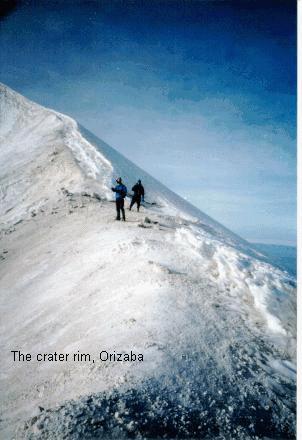 El Pico de Orizaba is the highest peak in Mexico, and the third highest in North America. It is a volcano, and rises 18,850 feet above sea level. After summitting Iztaccihuatl, and taking two much deserved rest days, we climbed Orizaba on January 31st, 1997.

My climbing partner, and I started out around 2:00 AM, with a team of three from California. The climb starts from a hut at Piedre Grande, 13,975 feet in altitude. We spent twelve hours there, to acclimatize somewhat, although the time spent on Izta really made the difference. From the hut, a short scree climb, followed by a long gradual walk put us on the lower snowfield, about 15,300 feet. Once on snow, the routefinding in the dark became much easier. The snowfield is a straight up climb, leading to the glacier proper at 16,400 feet. Ice and snow conditions led us to climb unroped; group arrest seemed impossible. From here, it is straight up. At about 17,000 feet, we met up with the California team. Shortly thereafter, they turned back, but one of them joined us. The next landmark on the glacier is the rim of the crater on the volcano. This is a photo from the rim of the crater.

From the crater it is a short but steep hike to the windswept top. We summitted at 8:30 AM. New personal altitude records all around. If we look cold, we are!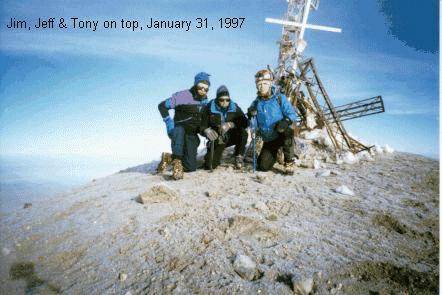 Orizaba: The summit!
e-mail comments or inquiries to Jim Richardson

Summits
| | | | |
| --- | --- | --- | --- |
| Peak | Altitude | Location | Date |
| Humboldt Peak | 14,064 | Colorado | August 2001 |
| Challenger Point | 14,081 | Colorado | August 2001 |
| Ellingwood Point | 14,042 | Colorado | August 2001 |
| Blanca Peak | 14,345 | Colorado | August 2001 |
| Mt. Lindsey | 14,042 | Colorado | August 2001 |
| Handies Peak | 14,048 | Colorado | July 2000 |
| Sunshine Peak | 14,001 | Colorado | July 2000 |
| Uncompahgre Peak | 14,309 | Colorado | July 2000 |
| Matterhorn Peak | 13,590 | Colorado | July 2000 |
| Wetterhorn Peak | 14,015 | Colorado | July 2000 |
| San Luis Peak | 14,014 | Colorado | July 2000 |
| Redcloud Peak | 14,034 | Colorado | July 2000 & April 1999 |
| Iliniza Sur | 17,268 | Eucador | January 1998 |
| Wright | 4,580 | New York | September 1997 |
| Algonquin Mtn. | 5,114 | New York | September 1997 |
| Mt. Colden | 4,714 | New York | September 1997 |
| Mt Marcy | 5,344 | New York | September 1997 |
| Guagua Pichincha | 15,729 | Ecuador | July 1997 |
| Iliniza Norte | 16,818 | Ecuador | July 1997 |
| Orizaba | 18,850 | Mexico | Jan. 1997 |
| Iztaccihuatl | 17,338 | Mexico | Jan. 1997 |
| Mt. Evans | 14,264 | Colorado | Aug '96, Sept '94, Jul '87 |
| Mt. of the Holy Cross | 14,005 | Colorado | Aug. 1996 |
| Mt. Yale | 14,196 | Colorado | Aug. 1996 |
| Mt. Columbia | 14,073 | Colorado | July 1996 |
| Mt. Harvard | 14,420 | Colorado | July 1996 |
| La Plata Peak | 14,336 | Colorado | July 1996 |
| Missouri Mt. | 14,067 | Colorado | July 1996 |
| Mt. Oxford | 14,153 | Colorado | June 1996 |
| Mt. Belford | 14,197 | Colorado | June 1996, July 1995 |
| Mt. Tabeguache | 14,155 | Colorado | July 1995 |
| Mt. Shavano | 14,229 | Colorado | July 1995 |
| Mt. Princeton | 14,197 | Colorado | July 1995 |
| Mt. Massive | 14,421 | Colorado | July 1995 |
| Huron Peak | 14,005 | Colorado | Sept. 1994 |
| Mt. Democrat | 14,000 | Colorado | Sept. 1994 |
| Gray's Peak | 14,148 | Colorado | Sept. 1994, Sept. 1992 |
| Torreys Peak | 14,267 | Colorado | Sept. 1994 |
| Pikes Peak | 14,110 | Colorado | Sept. 1994 |
| Mt. Rainier | 14,420 | Washington | Aug. 1994 |
| Mt. Sherman | 14,036 | Colorado | Oct. 1993 |
| Mt. Elbert | 14,433 | Colorado | Oct. 1993 |
| Mt. Quandry Peak | 14,265 | Colorado | Oct. 1993 |
| Mt. Lincoln | 14,286 | Colorado | Oct. 1993 |
| Mt. Bross | 14,172 | Colorado | Oct. 1992 |
| Mt. Bierstadt | 14,060 | Colorado | Oct. 1992 |
| Mt. Antero | 14,269 | Colorado | Sept. 1991 |
Back to my Weird Wired World.
Page design by

High Altitude Webslinger
Last Update 02/14/2002