Challenger Point: 14,081 feet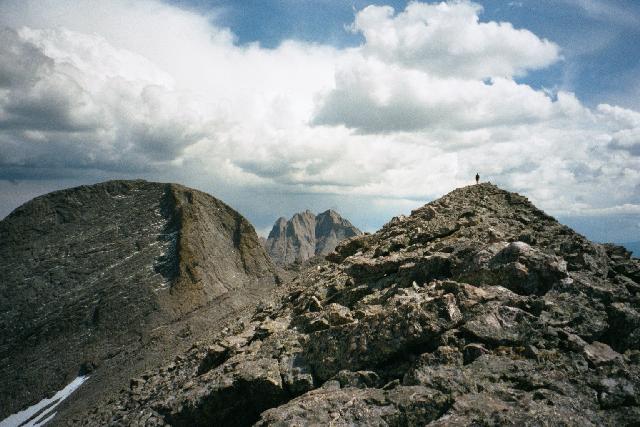 Looking south: Dave atop Challenger Point. The the left is Kit Carson, framed are the Crestones.
We climbed Challenger Point from the west, out of the town of Crestone. We planned a day hike of both Challenger and Kit Carson. We started at the Willow Lake trailhead, and hiked steadily upward to the lake. We went around the north side, I would now recommend staying on the south side. Above the waterfall, it is a one mile hike to Challenger's summit.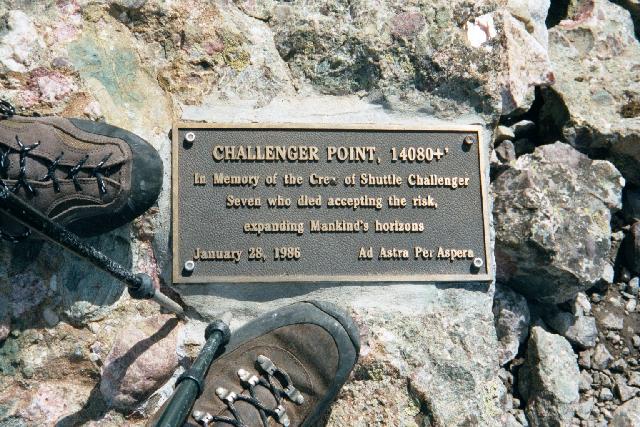 From Challenger's summit, we continued south to the saddle between Challenger and Kit Carson, where we found the ledges — sidewalks in the sky — that wrap halfway around Kit Carson's dome. We chose the wrong approach: a too-steep gully that led to the summit. The angle worsened, and we found ourselves doing unroped, overexposed and unprotected class 4+ moves when the hail started. Dave was 100 feet from the summit and continued on. I spent the next half-hour trying to downclimb to the ledges.
From Kit Carson's summit, Dave found the gully we should have ascended, and quickly returned to the ledges. We made out way back to Challenger in a lightning storm, and back to Willow Lake by 6:30 PM. We reached the trailhead at 8:40 PM, coming down in the dark without benefit of moonlight: a testimony to the well groomed trail below Willow Lake.
Next Mountain: Humboldt Peak
Page design by Vision Graphics
High Altitude Webslinger
Last Update 02/05/2002